Alaska 49er's
Cowboy Action Shooting Club
Contact the T.G.
Rex "Marshal Stone" Walling
SASS# 53366
Patron
Phone:
907.373.0140
Email:
Credentials:
SASS Regulator
Territorial Governor
Chief Regional Range Officer
Of Alaska
Wild Bunch R.O Instructor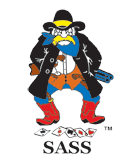 Next Monthly Match is January 23rd at Mat Valley Sportsmen's Indoor Range
Grab Yer Pistols, Rifles and Scatter Guns and Come On Out and Shoot Some Low Down Steel Varmints!
Visitors welcome and if you want to give it a try, we'll find some guns and ammo for ya!!
2022 SUMS and 2022 Wild Bunch Registrations
Available NOW!
​